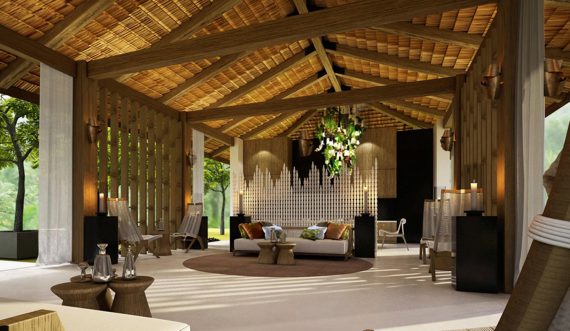 The design approach required a very thoughtful and deft touch.  With views of the jungle and mountainous surrounds, the spa itself is a wellness journey through a sequence of Dominican cabanas, unobtrusive and respectful of their ecological surroundings.  Occupying 1,700 square metres (18,000 square feet), Kempinski The Spa has 5 single outdoor cabanas and 2 Dominican suites considerately placed around a central wellness garden featuring a variety of warming and cooling experiences including an outdoor vitality pool and a Mountain View Sauna.
Instilling a sense of fun with authentic and locally cognisant therapy, the 'detoxifying mineral bathe' in the wellness garden invites guests to enjoy the sulphuric mud, rich in essential minerals that both cleanse and reduce inflammation.  Two outdoor cabana suites complete with their own baths & private outdoor lounges offer unobstructed views of the jungle surrounds.
At Kempinski The Spa, wellbeing is personal.  Each and every experience is tailored to the guest to provide an uncomplicated and truly luxury experience which allows the guest to immerse and genuinely connect with their environment.  Hot stone massages utilise volcanic stones from the island, which has the highest concentration of dormant volcanoes in the world.  Scrubs, wraps and treatments have been created from the locally grown organic cocoa, coffee & aloe vera.  Tailored and effective anti-aging facials and treatments harness the regenerative power of local coconut oil.  Guests can relax before and after treatments in the quintessentially Dominican outdoor and indoor relaxation lounges.
Physical activity is a key component to achieving the Dominican sense of wellbeing.  The spa features a 24-hour gym equipped with the best from LifeFitness and a modern outdoor yoga sala where functional fitness training can also be performed.